PIX 240 Digital Recorders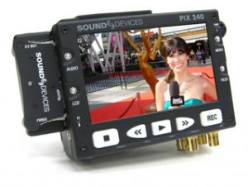 GPS has two PIX 240/240i portable HD video recorders with a 5" monitor that allow you to create digital DNxHD or ProRez files from any HDMI or SDI input. The files are recorded onto a 256gb SSD inserted into the PIX. Several recording options are available in either the DNxHD or ProRez formats. The PIXs are powered by a D-tap or Sony batteries.
BlackmagicDesign 5" 12G Video Assist Recorder
The Blackmagic Design 5" 12G SDI-HDMI HDR Recording monitor features a bright 5", 1920x1080 display whaich helps you frame and focus your shots. You can monitor and record HDR video up to DCI 4K, UHD 4K, 2K, or HD and up to 16 channels of embedded audio. It comes with SD cards for recording, a power supply, D-tap cable, or batteries and a Noga mount.