Panasonic 17" & 8.4" Monitors
IDX CW-3 CAMWAVE

WIRELESS VIDEO SYSTEM
VARIOUS MONITOR
AND
ACCESSORY RIGGING
SmallHD Hi-Brite 17" Monitor
SmallHD 502 5" Monitor with Sidefinder
GPS has three Panasonic BT-LH1760 17" flat-screen HD monitors that have two SDI inputs so you can switch between the two. Also features a waveform monitor and vectorscope, pixel to pixel display, cross-hatch, and can display timecode and audio signals. Can be table mounted or mounted on a stand. Battery powered or run off power.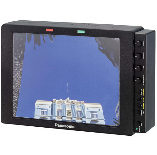 GPS has two Panasonic BT-LH900A 8.4" HD portable monitors that feature a waveform and vectorscope and come in a Petrol case with a built-in hood. The monitors weigh 4.4 lbs. and have a slim 2.5" profile, Runs off gold-mount batteries or a 4-pin power source, is very portable and can be mounted on a stand.
The SmallHD 1703 17" monitor is built extremely tough and features waveform and vectorscope, histogram, false-color, and split-screen allowing viewing of two live video feeds. This Hi-Brite monitor accepts both HDMI and SDI inputs and can be viewed in direct sunlight without needing a sunshade. It can be powered from ac power or a gold-mount battery.
The SmallHD AC-7 7" monitor features 170 degree viewing angle and has HDMI and SDI loop-thru, focus-assist, sharpness adjust, image and menu flip. Comes with two mounts for Canon batteries, sunshade, D-tap cable, and power supply.
BNC/SDI CABLES

IN VARIOUS LENGTHS
The SmallHD 502 5" monitor accepts both HDMI and SDI inputs and outputs and provides signal cross-conversion. The unit is 3/4" thick and weighs 9 ounces [not including batteries] so it is light enough to rig on a camera without weighing you down. The monitor supports 3D LUTs which you can save to a page that can be then applied to
the monitor's screen, the output, or both at the same time. The 502 Sidefinder is an optical loupe that attaches to the 502 monitor to create a flexible, hi-rez EVF viewfinder that works with any camera outputting an HDMI or SDI signal.
CineEye 5G WiFi Video Transmitter
The Accsoon CineEye is a 1080p wireless video transmitter with a range of 328 feet for up to 4 mobile devices. It has a 5G wifi signal and supports Android and IOS devices. Features include RGB, false color, and LUT support and is powered off an internal battery.