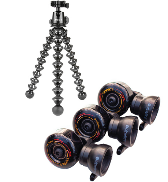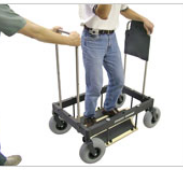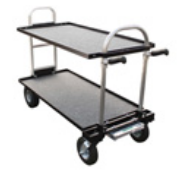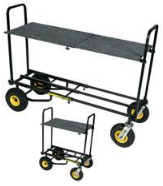 SCOOTER-SHOOTER

DOLLY & EQUIPMENT CART
EXPANDABLE ROCK N' ROLLER

CART WITH SHELF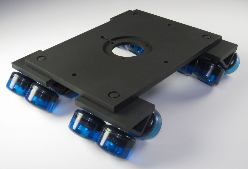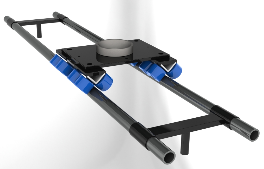 The Dana Dolly is a great solution for adding production value to your shoot. The dolly is quick to setup and can be used from easily adjustable and unlimited heights. Included in the kit are a 75mm, 100mm, and 150mm bowl adapters, two track end receivers and a center support.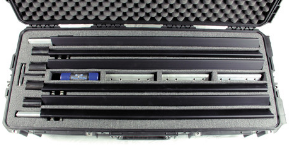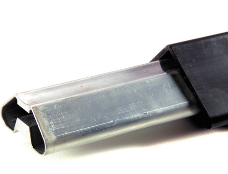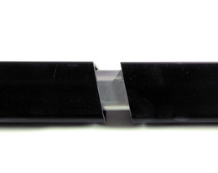 The Dana Dolly Track kit is a set of precision rails designed to provide smooth operation of your Dana dolly. The kit features six 36" sections of track that can be combined to make a 6 foot or 9 foot set of rails. The track is designed so that the wheels of the
dolly never make contact with the seams at exactly the same moment for ultimate smooth operation. The track and all the tools you need to assemble it can be shipped in a custom SKB case which weighs less than 50 pounds.
Konova K5 120 Slider Dolly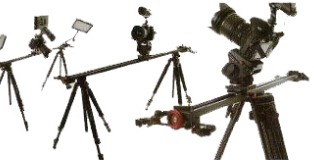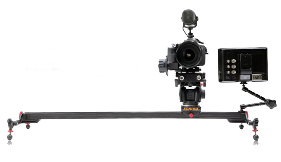 The Konova K5 120 Slider dolly is 47" long and can handle cameras up to 50 pounds. There are tripod mount holes at each end of the track and in the center for tripod mounting. There are also two sets of adjustable feet so shooting on the ground on uneven terrain is not a problem. The slider can be mounted at any angle, even vertically. A Bogen 3028 pan/tilt head comes with the slider. New to GPS, the Konova KMS-S2 motorized system allows you to set a start and end point and duration of the move and let it go on its own - one-time move or loop.
EZ-FX Portable Jib with Hot-Head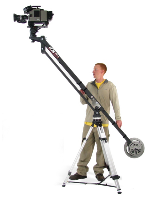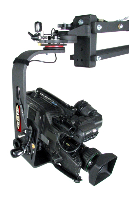 The EZ-FX Portable Jib with Hot-Head has a 9 foot reach and can support cameras up to 30lbs. You can use the jib with or without the hot-head to achieve smooth pans, tilts, and booms. Included with the jib is an "underslinger" for ground-level low shots, a monitor mount and vest mount for a monitor, jib tripod, dolly wheels, and weights. The hot-head can also be tripod mounted for remote camera operation.
Redrock Micro One Man Crew Director Motorized Parabolic Slider
The One Man Crew Director is a 36" motorized parabolic slider that lets you add motion to your video without needing a dedicated operator. The slider can handle up to 22 pounds and is the perfect addition for interviews, product shots, beauty shots and timelapses. Simply place your subject 6 feet away and line up the lasers on each end of the slider and then go. The slider will travel the length of the track or within the presets you set and will keep your subject center frame and in focus. You control the speed of the move from fast to ultra slow to timelapse. The slider can be run off A/C or batteries with a D-tap and can be mounted on a tripod and/or light stands.